Westminster Briefing Conference
Challenging the Most Able: Fulfilling the Potential of All Students - Wednesday, 19 July 2017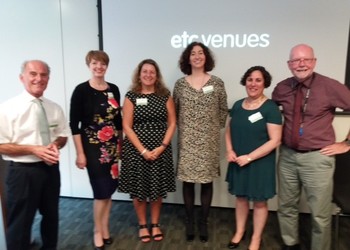 Alan Barham (Education Consultant and former Headteacher); Susanne Staab (Headmistress, Norton Knatchbull School); Sue Kelly (Deputy Head, Norton Knatchbull School); Emma Brining (Head of MASt and Gifted & Talented, Sir John Lawes); Mirela Temo (Educational Improvement Consultant – MAGT Lead, Ealing Council); Bob Cox (Presenter, Writer & Director, 'Searching for Excellence Ltd')
Nearly a year on from Ofsted's Chief Inspector portraying the performance of the most able children as "a bleak picture of under-achievement and unfulfilled potential", the progress of that cohort remains a focus for inspectors, policy-makers and School Leaders alike. SJL Head of MASt and G&T Mrs Brining spoke at this conference, organised by Westminster Briefing, contributing to a comprehensive update on how best to fulfil the potential of the most able in our schools and how to measure their success. The conference was attended by Senior and Middle leaders, Gifted & Talented/Most Able Co-ordinators, Teaching & Learning Co-ordinators, Teachers and Governors from UK schools.
Key Issues addressed at the conference included:
· Overview of the national policy context: Progress 8 and beyond
· Stretching the most able to achieve their potential
· The Ofsted view: what to expect on inspection
· Impact of changes to the schools landscape
· Building a Whole School Approach
· Defining, identifying and tracking the most able pupils
· Putting Social Mobility at the heart of your plan
· Engaging and motivating teachers and support staff
· Examining the transition from KS2 to KS3
· Making use of extra-curricular resources and methods
Westminster Briefing
Westminster Briefing is a brand of Dods Group Plc, Europe's leading political information, policy communication and public affairs specialist. Their briefings, summits and training events are part of a wide variety of services they provide. For over ten years a diverse range of professionals has attended their events to receive up-to-date information about the latest policies and developments affecting their field.
A brief history of Dods
When The Times' parliamentary journalist Charles Roger Phipps Dod left the iconic British newspaper to launch Dods Parliamentary Companion in 1832, little did he know that almost two centuries later his definitive guide to UK political figures would still be published annually. He certainly would never have imagined that it would form the inspiration for the world's most comprehensive, reliable and accurate source of political and public sector intelligence and education. Nor that the company would still bear his name, share his values of impartiality and integrity, and be the essential tool for anyone looking to thoroughly understand and engage with government and public affairs in the UK, the European Union, and beyond.