News
Sportsman and Sportwoman 2020 announced
Posted on 18/12/2020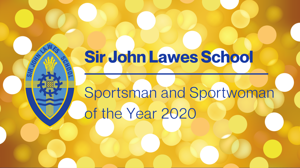 As we are all painfully aware it has been a very difficult year for us all and not least for our hundreds of amazing students who regularly participate in sports clubs and teams and represent the school so often and so well. Our sports performers have found the limitations and restrictions particularly frustrating but many have continued to work hard independently where they have been unable to join their teams. Despite the reduced timetable of competition and events we are still very proud to be able to acknowledge and celebrate the achievements and dedication of two particular students during 2019-2020.
Hannah, Y10 and Alfie, Y12 our SJL Sportswoman and Sportsman of the Year for 2020!
Hannah is one of those incredible students who not only seems to be a very good all-round sports performer but she also excels in specific areas.
Hannah truly embodies the characteristics we value so highly as a sports woman. She is dedicated, determined, hard-working, resilient and disciplined. She has needed all of these qualities to be so successful in her swimming and, in addition to this Hannah is a real team player.
Hannah has shown great resilience during lockdown and despite the disappointment of not competing she has continued to train hard to maintain her fitness and was one of the first to get back in the water resorting to open water swimming as soon as she was able.
It is that type of dedication, hard work, resilience and team spirit that has led to Hannah Brooke becoming SJL sportswoman of the Year 2020!
Congratulations Hannah!
Alfie finally and deservedly gets his hands on this coveted and prestigious award. One of the top 5 contenders in every year since he arrived at SJL Alfie is the true embodiment of an all-rounder but one who also attains incredibly high standards in specific areas, namely football and athletics.
Sportsmen like Alfie don't come along every year but when they do it is instantly exciting for the school and in particularly the PE department as we get to watch and marvel in the attitude, approach, skill and success that their performances bring. The last five years have been a delight and although this year has been restricted we were still able to enjoy some more outstanding performances from Alfie in the heights of the Senior Football team and we look forward to the resumption of play not least to see our 2020 Sportsman of the Year back in action as soon as possible.
Congratulations Alfie you are SJL's Sportsman of the Year 2020.
Mr Battersby, Head of PE