Recent Successes
2021/22 has been a great year for fundraising and purchasing for the school.
Events
November 2021 – this was the first opportunity to welcome year 7 and 8 parents onto the site having been kept away as a result of the pandemic. We held a very enjoyable wine and beer tasting event, the first event run by the new committee. Definitely an event to be repeated but we learnt that the ambience of the school canteen needs some work so we'll be prepared with the remote control for the lighting for future events!

March 2022 – saw the return of the very popular Quiz Evening after a two-year gap. The evening was able to run smoothly as so many parents volunteered their time to help and over 150 parents and staff attended. Jon, our Quiz Host did a great job and everyone enjoyed the Godfreys supper, a well-stocked bar and there was a great buzz going on. Students from year 10 who were raising money for their World Challenge to Eswatini in 2023 ran a Raffle with a very extensive list of prizes. They also did lots of running around for us, giving out food, sauces and cutlery! Look out for the Quiz Night for the 2022/23 school year!
FESTIVAL ON THE FIELD 2022 - This incredible and extremely popular event is held every two years and has its own special committee. After two cancellations, this year's Festival featured a number of great tribute bands as well as Stratton 5 – all students of SJL. More information and photos to follow so watch this space!
Purchases
New Minibus - The school needed a new minibus to better cope with the increasing transport requirements. In June, the long-awaited minibus was purchased – second hand but in fantastic condition inside and out, and there's even air-conditioning vents for all the passengers! Go to the Friends of SJL Facebook or Twitter to see our video.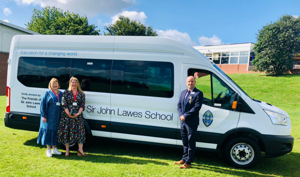 New Tenor Saxophone - The Music Faculty had been in need of a new Tenor Saxophone for quite some time. Being able to support students expand their musical repertoire (for example branching out from an Alto Sax) and helps to enhance the sound of the various music ensembles. The music parents support group are instrumental in raising funds and FOSJL were able to provide a substantial donation to make this purchase possible. Go to the Friends of SJL Facebook or Twitter to see a short video.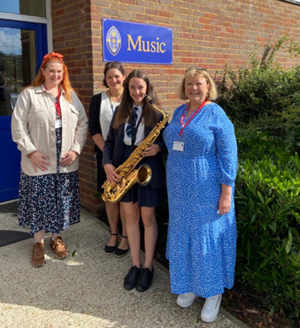 Purchases Currently in Progress
Two new houses for the school ducks and other equipment for our special Animal Studies area
Two brand new sewing machines
Six radio mics for drama and school productions